Best artists of all time: Frida Kahlo 1907–1954
Artist Frida Kahlo was considered one of Mexico's greatest artists who began painting mostly self-portraits after she was severely injured in a bus accident. Kahlo later became politically active and married fellow communist artist Diego Rivera in 1929. She exhibited her paintings in Paris and Mexico before her death in 1954.
While she never considered herself a surrealist, Kahlo befriended one of the primary figures in that artistic and literary movement, Andre Breton, in 1938. That same year, she had a major exhibition at a New York City gallery, selling about half of the 25 paintings shown there. Kahlo also received two commissions, including one from famed magazine editor Clare Boothe Luce, as a result of the show.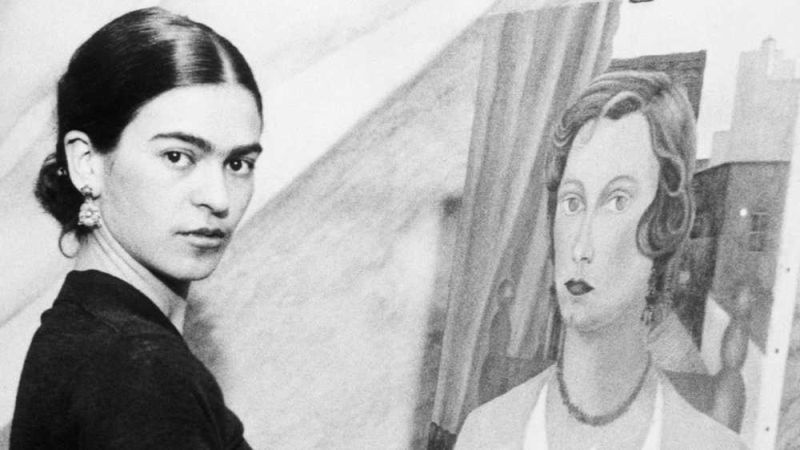 Frida Kahlo
In 1939, Kahlo went to live in Paris for a time. There she exhibited some of her paintings and developed friendships with such artists as Marcel Duchamp and Pablo Picasso.
In 1953, Kahlo received her first solo exhibition in Mexico. While bedridden at the time, Kahlo did not miss out on the exhibition's opening. Arriving by ambulance, Kahlo spent the evening talking and celebrating with the event's attendees from the comfort of a four-poster bed set up in the gallery just for her.
After Kahlo's death, the feminist movement of the 1970s led to renewed interest in her life and work, as Kahlo was viewed by many as an icon of female creativity.
Frida Kahlo and her husband Diego Rivera
Frida Kahlo's Most Famous Paintings
Many of Kahlo's works were self-portraits. A few of her most notable paintings include:
'Frieda and Diego Rivera' (1931)
Kahlo showed this painting at the Sixth Annual Exhibition of the San Francisco Society of Women Artists, the city where she was living with Rivera at the time. In the work, painted two years after the couple married, Kahlo lightly holds Rivera's hand as he grasps a palette and paintbrushes with the other — a stiffly formal pose hinting at the couple's future tumultuous relationship. The work now lives at the San Francisco Museum of Modern Art.
Frieda and Diego Rivera
'Henry Ford Hospital' (1932)
In 1932, Kahlo incorporated graphic and surrealistic elements in her work. In this painting, a naked Kahlo appears on a hospital bed with several items — a fetus, a snail, a flower, a pelvis and others — floating around her and connected to her by red, veinlike strings. As with her earlier self-portraits, the work was deeply personal, telling the story of her second miscarriage.
Henry Ford Hospital
'The Suicide of Dorothy Hale' (1939)
Kahlo was asked to paint a portrait of Luce and Kahlo's mutual friend, actress Dorothy Hale, who had committed suicide earlier that year by jumping from a high-rise building. The painting was intended as a gift for Hale's grieving mother. Rather than a traditional portrait, however, Kahlo painted the story of Hale's tragic leap. While the work has been heralded by critics, its patron was horrified at the finished painting.
The Suicide of Dorothy Hale
'The Two Fridas' (1939)
One of Kahlo's most famous works, the painting shows two versions of the artist sitting side by side, with both of their hearts exposed. One Frida is dressed nearly all in white and has a damaged heart and spots of blood on her clothing. The other wears bold colored clothing and has an intact heart. These figures are believed to represent "unloved" and "loved" versions of Kahlo.
The Two Fridas
'The Broken Column' (1944)
Kahlo shared her physical challenges through her art again with this painting, which depicted a nearly nude Kahlo split down the middle, revealing her spine as a shattered decorative column. She also wears a surgical brace and her skin is studded with tacks or nails. Around this time, Kahlo had several surgeries and wore special corsets to try to fix her back. She would continue to seek a variety of treatments for her chronic physical pain with little success.
The Broken Column